Embrace the Festive Season with White Christmas Nails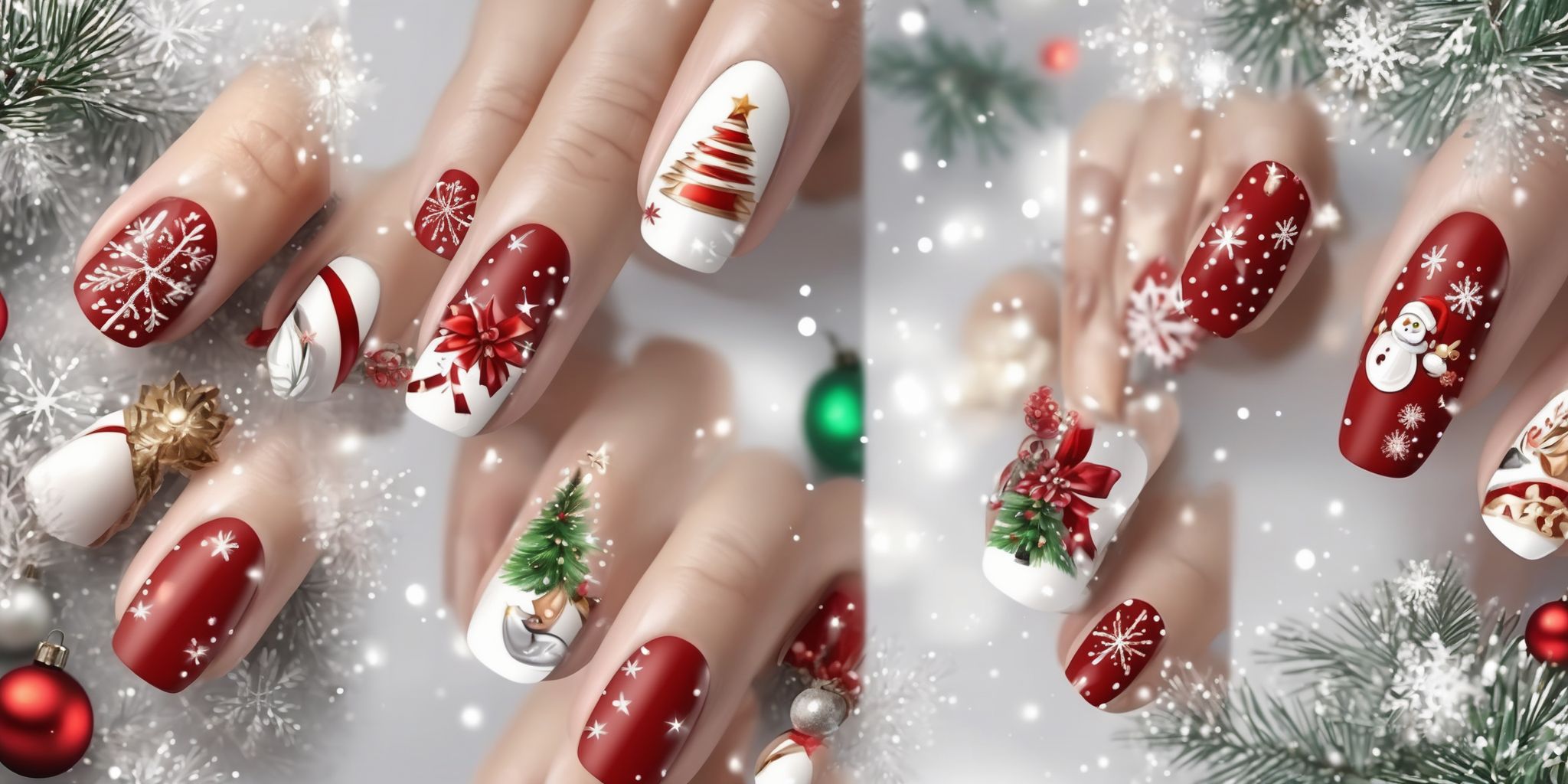 The chilly breeze is in the air, sparkling lights are decking the streets, and the joyful tunes of carols fill your ears - it can only mean one thing: the festive season is here! And what better way to embrace the holiday spirit than by adorning your nails with the enchanting beauty of a White Christmas? Step into a world of snowy elegance and immerse yourself in the magic of the season as we explore the mesmerizing trend of White Christmas nails.
Whether you're sipping hot cocoa or building snowmen, your nails will be a reflection of the pure and whimsical charm that surrounds this joyous time of year. So, grab a cup of eggnog, settle into your cozy spot by the fire, and let's discover how to achieve the perfect winter wonderland for your fingertips.
Setting the Mood with White Christmas Nails
Why White Christmas Nails Are Perfect for the Festive Season
White Christmas nails are the epitome of elegance and sophistication during the festive season. The color white symbolizes purity and peace, making it a perfect choice for the holiday celebrations. White nails effortlessly complement any outfit, whether it's a glamorous evening gown or a casual sweater. Moreover, white nails create a stunning contrast against bright reds, greens, and golds commonly associated with Christmas.
Adding snowflake or holiday-themed nail art to your white manicure adds a touch of whimsy and festivity. Embracing white Christmas nails allows you to effortlessly embrace the holiday spirit while maintaining a chic and timeless look.
Getting Ready for the Holidays
Choosing the Right Shade of White
When choosing the right shade of white for your White Christmas nails, consider the following:
Undertones: Determine if you prefer a warm or cool undertone to complement your skin tone. Ivory whites lean towards warmer tones, while pure whites have cooler undertones.
Opacity: Opt for a white polish with good opacity to achieve a solid, vibrant color. Sheer whites may require multiple coats for a more opaque look.
Texture: Matte or glossy finishes can create different effects. Matte whites offer a sophisticated and subtle appearance, while glossy whites provide a shiny and glamorous look.
Nail Length: Consider your nail length and shape.
Off-white shades can give shorter nails a more elongated look, while brighter whites can add a classic touch to longer nails.
Remember to choose a white shade that aligns with your desired style and complements your overall festive outfit.
Exploring Different Shades of White for Your Christmas Manicure
When creating your white Christmas nails, it's important to consider the different shades of white available. Opting for a pure, bright white can create a classic and elegant look, perfect for formal occasions. If you prefer a softer and more subtle appearance, an off-white or cream shade can add warmth to your manicure. For those looking to make a statement, pearl or iridescent whites provide a touch of sparkle.
Experimenting with various shades allows you to find the perfect white that alignswith your desired style and complements your skin tone. Feel free to mix and match shades to create a unique and personalized white Christmas nails design.
Adding Snowflake and Christmas-themed Nail Art
Incorporating snowflake and Christmas-themed nail art is a delightful way to elevate your white Christmas nails. These designs bring a festive touch to your manicure, capturing the essence of the holiday season. You can create intricate snowflake patterns using a thin nail art brush or opt for holiday symbols like Christmas trees, candy canes, or reindeer. Experiment with different techniques such as stamping, freehand painting, or using nail decals to achieve varying levels of intricacy. These charming details make your white Christmas nails truly stand out and add an extra dose of seasonal cheer to your overall look.
Creating Festive Designs with Snowflakes and Holiday Symbols
Snowflakes: Incorporating delicate snowflake designs into your white Christmas nails can add a touch of whimsy and winter magic. Consider using white nail polish as the base and adding intricate snowflake patterns using a thin nail art brush. Experiment with different sizes and shapes of snowflakes to create a unique and festive look.
Holiday Symbols: Embrace the spirit of the season by featuring popular holiday symbols on your nails. Think candy canes, Christmas trees, reindeer, or even Santa Claus. Use white as the base color and add these symbols using nail stamps or nail art stickers. It's an easy and fun way to make your nails stand out at holiday gatherings.
Accent Nails: To avoid overwhelming your manicure, try incorporating snowflakes or holiday symbols as accent nails. This means choosing one or two nails to feature the design, while keeping the rest of your nails in a solid white shade. This creates a stylish and balanced look that still showcases the festive elements.
Subtle Details: If you prefer a more understated look, you can opt for smaller snowflake or holiday symbol accents. For example, you could add a single snowflake to the corner of one nail or create a simple Christmas tree outline. These subtle details maintain the elegance of the white Christmas nails while still capturing the holiday spirit.
Accessorizing with Glitter and Rhinestones
Enhance your white Christmas nails with a touch of sparkle and glamour by accessorizing them with glitter and rhinestones. These embellishments add a festive and joyful vibe to your manicure, making it stand out during the holiday season. You can apply a layer of glitter polish over your white base for a subtle shimmer, or strategically place rhinestones on your nails to create intricate patterns or accents.
For example, you can create a snowflake design using silver rhinestones or add small gold glitter accents to resemble twinkling Christmas lights. Remember to seal your design with a top coat to ensure longevity. Get ready to dazzle with your festive and glamorous white Christmas nails.
Enhancing Your White Christmas Nails with Sparkle and Shine
Add a touch of glamour to your white Christmas nails by incorporating glitter or rhinestones.
Apply a thin layer of clear polish over your white base coat and sprinkle fine glitter over the wet polish for a subtle sparkle.
For a more dramatic effect, create an accent nail by covering it entirely with chunky glitter.
Place rhinestones strategically on your nails, such as on the tips or along the cuticle, to create a dazzling effect.
Use a toothpick or a small dotting tool to apply a small amount of clear polish as glue to attach the rhinestones.
Seal your design with a top coat to ensure long-lasting shine and to prevent the glitter or rhinestones from falling off.
Tips for a Long-lasting Festive Manicure
Prepping Your Nails for Extended Wear
Prepping your nails for extended wear is important to make your white Christmas nails last throughout the festive season. Start by thoroughly cleaning and removing any existing nail polish. Then, shape your nails and gently push back your cuticles. Apply a base coat to protect your nails and prevent staining. Opt for a high-quality white nail polish that offers good coverage. Apply thin layers of polish, allowing each layer to dry completely before adding the next.
Finally, seal your manicure with a reliable top coat to enhance its longevity. Regular maintenance and avoiding activities that may cause chipping can further extend the wear of your white Christmas nails.
Steps to Ensure Your White Christmas Nails Last Throughout the Season
To make your white Christmas nails last throughout the season, follow these simple steps.
Firstly, begin by properly prepping your nails by cleaning them and removing any old polish.
Next, apply a base coat to create a smooth surface for your white polish. Make sure to apply thin layers of polish, allowing each layer to dry before applying the next. Once your white polish is dry, seal it with a high-quality top coat to protect against chipping and ensure longevity. Lastly, remember to moisturize your hands and nails regularly to keep them healthy and well-maintained. By following these steps, you can enjoy beautiful white Christmas nails that will stay pristine all season long.
Using Top Coat and Sealing the Design
To prolong the life of your white Christmas nails, applying a top coat is essential. Here are a few tips to seal and protect your festive nail design:
After completing your manicure, wait for your nails to dry completely before applying a clear top coat.
Use a high-quality top coat that provides shine and chip resistance, ensuring your design stays intact.
Apply a thin layer of top coat over your entire nail, including the edges, to prevent chipping and enhance durability.
Allow the top coat to dry completely before exposing your nails to any activities that may damage the design.
Consider adding an extra layer of top coat every few days to maintain the longevity of your white Christmas nails.
Remember, a good top coat can seal the deal and keep your festive manicure looking flawless throughout the holiday season.
How to Protect Your Festive Nail Art with a Quality Top Coat
Using a high-quality top coat is crucial to protect your beautiful white Christmas nail art. A good top coat creates a protective barrier that seals in the design and prevents chipping or peeling. Look for a top coat that is long-lasting and fast-drying for maximum durability. Apply a thin layer over your nail art, making sure to cover the edges, and let it dry completely. This will help to extend the lifespan of your festive manicure and keep it looking flawless throughout the holiday season.
Remember, a quality top coat is like insurance for your nails, ensuring your white Christmas nails stay picture-perfect.
White Christmas Nails for Every Occasion
Elegant and Sophisticated White Christmas Nails for Formal Parties
Elegant and sophisticated white Christmas nails are the perfect choice for formal parties. This classic look exudes grace and adds a touch of glamour to any outfit. To achieve this style, opt for a creamy white polish with a glossy finish. Keep the design simple and elegant with minimal nail art or opt for a subtle silver accent for added sparkle. Consider a sleek almond or oval shape to enhance the sophistication.
This timeless manicure pairs beautifully with black-tie attire or elegant cocktail dresses, making you feel polished and confident at your next formal holiday event.
Ideas for Creating a Glamorous Look with White Nails for Holiday Events
To create a glamorous look with white Christmas nails for holiday events, consider adding some sparkle and shine. Opt for a white nail polish with a metallic finish, like silver or gold, to give your manicure a touch of elegance. Accentuate your nails with rhinestones or glittery nail art for a glamorous and festive feel. Another idea is to incorporate negative space designs by leaving some areas of your nails bare and adding intricate white patterns.
Experiment with different textures and finishes, such as matte or glossy, to add dimension to your white Christmas nails.
Fun and Playful Designs for Casual Christmas Gatherings
For casual Christmas gatherings, white Christmas nails can bring a playful and fun touch to your look. Consider adding whimsical designs like snowmen, reindeer, or candy canes to your nails. These festive elements will instantly make your nails a conversation starter at the party. You can also experiment with different textures and finishes, such as matte white nails with shiny polka dots or glitter accents.
Another idea is to mix and match colors by incorporating splashes of red or green into your white manicure. These designs will give your nails a cheerful and joyful vibe, perfect for casual holiday celebrations.
Expressing Your Festive Spirit with White Nails at Casual Holiday Parties
Expressing your festive spirit with white nails at casual holiday parties is a fun and playful way to stand out. Opt for cute and whimsical designs, such as snowmen, candy canes, or Christmas tree accents, to add a touch of charm to your look. Alternatively, go for a simple yet stylish approach with a glossy white manicure that exudes elegance. Don't be afraid to experiment with nail art stickers or glitter accents to make your white Christmas nails truly pop.
Remember, a festive manicure is aninstant conversation starter and a great way to showcase your holiday cheer.
Key takeaways
Get into the holiday spirit with beautiful white Christmas nails. White is a versatile and classic color that represents winter and the festive season. These nails are perfect for adding a touch of elegance and magic to your holiday look. Whether you prefer simple and minimalist designs or intricate snowflake patterns, there's a white nail design to suit everyone's style. Embrace the festivities and rock a chic and timeless manicure this Christmas season.
Read On
Ah, the season of tinsel and mistletoe is finally upon us, and nothing screams "Christmas spirit"...